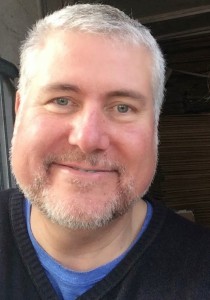 Peter Kenny is co-founder of Telltale Press. His poetry has appeared in many publications including Acumen, Frogmore Papers, Ink, Sweat and Tears, Other Poetry, Poetry London, Rogue Scholars (US), Other Voices (Canada). His work has also been translated into German and read on the BBC.
Now based in Brighton, by day Peter transforms into Peter Kenny The Writer Ltd and works as a freelance writer and creative director, and is currently an associate with the 11-London agency.
Other activities are various: a collaboration with composer Matthew Pollard resulted in several concerts and recordings, and he is now working on an opera with Helen Russell, his comedy plays were most recently performed at Brighton's Marlborough Theatre, he has also published short stories and is working on a longer prose project.
Publications, recordings and recent performances
The Nightwork (Telltale Press, 2014)
Clameur Matthew Pollard & Peter Kenny (AnotherSun Recordings, 2012)
Wrong/Betty the Spacegirl/A bite to eat (Marlborough Theatre, Brighton, March and June 2011)
A Guernsey Double with Richard Fleming, (Anthology of Guernsey/Guernsey Arts Commission, 2010)
This Concert Will Fall In Love With You (Brighton Festival Fringe, Matthew Pollard, Peter Kenny and the Tacet Ensemble, 2010)
Where to find Peter
peter kenny: the notebook – updates, observations and news
a galaxy of light-bulbs – examining creativity in marketing and advertising
An adumbration of the light age
from The Nightwork by Peter Kenny
Scientists classify six creatures that lived in light:
aardvark, elephant, carp, bee, bee-eater, and tern.
Their eyes were adapted to blinding conditions
pupils clenched to pinpricks, eyeballs squeezed in sockets.
Life, scientists suggest, will persist in peculiar places
for this so-called Light Age stretched for millennia
reigned over by a species of squinting hominid
who flinched from blackness, and the comforts of night.
Their aggregations of rubble are irrefutable
but other signs of their passing are slight; token scraps
with unbreakable codes, unknowable categories
and glossaries of nonsense such as bright, colour and sun.
These perplex us with hints of a primitive ritual
that shunned shadow, and linked dark with death,
bizarre beliefs which allowed no evolution, no self-expression
no feeling for the two thousand and twelve textures of dark.
But surely they'd not recoil from the blaze of a sable fire?
Or hate the velvet days? And how in light did they stay sane?
Their light is gone, thank God; a static crackle that passed once,
at dark speed, into the vast pale voids between stars.