The Telltale collective is expanding! We're delighted to announce that Siegfried Baber has come on board and we'll be publishing his pamphlet When Love Came to the Cartoon Kid…
STOP PRESS – pamphlet launch in Bath on May 13th at Topping's Bookshop!
Siegfried joined us for 'Telltale Poets and Friends' at the Poetry Cafe in January and everyone was impressed with his work and the confidence of his reading. Associate Editor Catherine Smith praised his 'distinct voice and great imagery' and we're all very excited. We'll be looking to have a launch event in Bath, and there'll be more opportunities to hear Sieg read, so we'll keep you posted about that.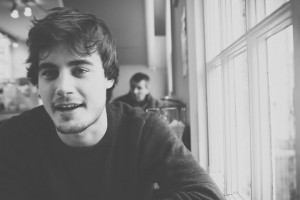 Siegfried Baber was born in Barnstaple, Devon in 1989. Since graduating from Bath Spa University with a degree in Creative Writing, he lives and works in the city as a freelance writer, and as a barman in Bath's finest pub, The Star Inn. His poetry has featured in a variety of publications including Under The Radar, The Interpreters House, Butcher's Dog Magazine, Peleton: 2013 Templar Anthology, and as part of the Bath Literature Festival.