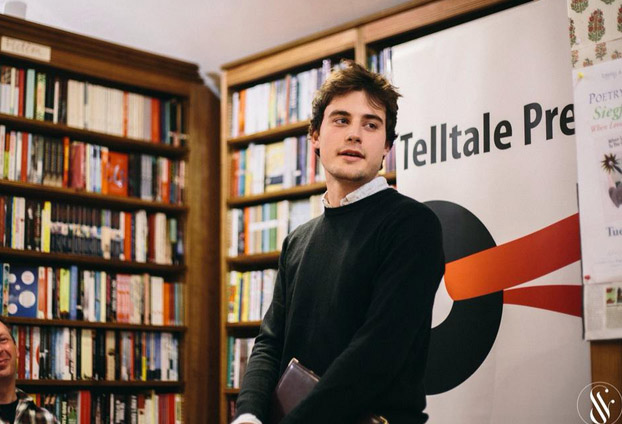 Huge thanks to Toppings Bookshop in Bath, and to Saber the manager there, for not only supporting our latest pamphlet but for hosting the launch reading last Wednesday.
Siegfried Baber's 'When Love Came To The Cartoon Kid' is a fantastic debut from a young poet with a great poetry career ahead of him. It was a super audience and nearly 30 pamphlets were sold there and then … plus we've already had mail orders from as far afield as Australia! You can buy the pamphlet here …
Thanks so much to Dot of Dot & Lucy Photography for allowing us to reproduce her photos on this site.
We're absolutely delighted to welcome our newest member, Sarah Barnsley.
Sarah Barnsley was born in 1974 grew up in the Midlands. She was shortlisted for an Eric Gregory Award (2004), the Bridport Prize (2010), and was joint runner-up in the Poetry School/Pighog Pamphlet Competition (2014). Sarah teaches at Goldsmiths, University of London. She has published poems in a range of magazines, as well as essays on American modernist poetry. Her first book of literary criticism, Mary Barnard, American Imagist, was published by SUNY Press in 2013. Sarah lives in Hove.
We'll be publishing Sarah's pamphlet later in the year, so watch out for further news of that. She will also be one of our readers at the next 'Telltale Poets & Friends' event at the Poetry Cafe on June 18th.